Own land in an upcoming mobile game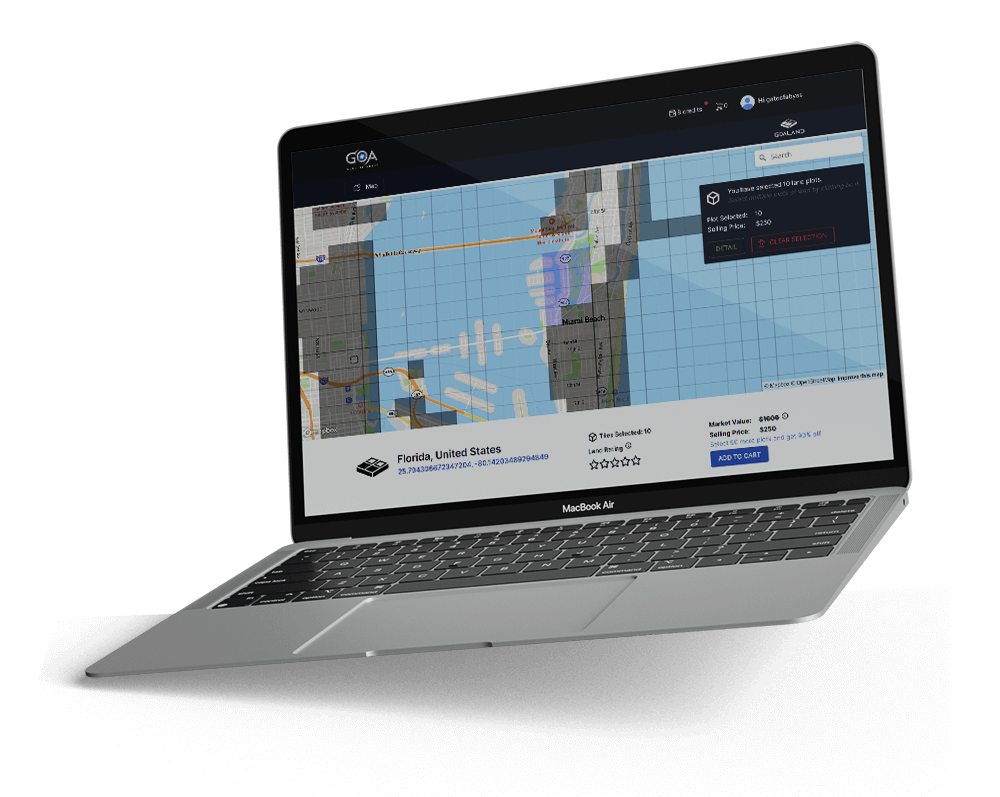 The land area and landscape of Gate of Abyss is mapped 1:1 to the map of Earth. Players can own plots of land, which entitles them to earn income based on transactions that happen on their land plots, amongst other perks.
Whenever players purchase items from shops, the owner of the land plot where these shops are situated on receives an income. Shops can be built by players and they sell a variety of weapons, armor and potions. As a landowner, you can either spend your income in-game or choose to cash it out.
You are allowed to buy land plots anywhere in the world. There are no added benefits in owning land in which you reside.
1. An In-Game Transaction Occurs On A Land Plot Which You Own
2. You Receive Income Based On X% Of The Transaction Value
3. You Can Spend Your Income In-Game, Or Cash It Out To Fiat
All land plot will have a starting valuation of $50. Its future valuation will be determined by the amount of transaction that happens on the land. You should expect the valuation to increase over time.
Either sell the land according to the indicated valuation, or set your own price. And like all real estate, your land could appreciate in value, allowing you to potentially sell it for capital gain.
1 Land Plot
Promo available for limited time
10 Land Plots
Promo available for limited time
100 Land Plots
$2,000 for 100 land plots

Promo available for limited time
Buy land credits using Credit/Debit Card or pay using Ethereum.
Redeem land plots using land credits. 1 land credit = 1 land plot.
Earn real world income yields from virtual real estate and enjoy capital gains.

Possess true ownership (through NFTs) as a result of blockchain technology.

Access to feature expansions.

By owning a plot of land, you become a legitimate landowner and will be able to earn income from transactions that take place on your land. The income that landowners receive is derived as: X% of all transactions that occur on their plot of land(s), where transactions include but are not limited to sales of items / gears in shops, upgrade fees from blacksmiths, etc.
Landowners also enjoy true ownership over their land plots, and they gain access to upcoming features with future updates.
It is not necessary to purchase land in the area where you live. It is advisable to select areas with a high population as your earning potential typically increases with a larger user base in your area.
Yes you should! As a landowner, you will earn income from transactions that happen on your land plots. You will receive your income even if you don't play Gate of Abyss.
Yes, you can pay using Credit/Debit card at checkout.
Gate of Abyss launches on both Google and Apple stores in 2023. Land plots will be integrated into Gate of Abyss after the game has launched. You will start receiving your income from this time on, automatically.
Access to early bird pricing – never again will you get access to such prices. 

Secure your favorite land plots, especially highly sought-after ones, before someone else buys it.

Enjoy capital gains on your land when our dynamic valuation mechanism kicks in later because all land plots will definitely be worth more than US$100.
We respect your privacy and do not tolerate spam and will never sell, rent, lease or give away your information to any third parties.